Snoring according to Dr. Köklü
"Antischnarchschiene mit nachgewiesener 99%iger Wirkung im Rahmen einer wissenschaflichen Studie"
Snoring or protrusion splint is also used as a treatment method. The principle of dental snoring therapyis to shift the lower jaw and tongue forward. Thus, the space (throat region) expands and the need for air guaranteed. This is possible with transparent removable splints.
Dr. Köklü is certified active orthodontist and has even two devices developed and patented to treat snoring.


Biofunctional snoring apparatus according to Dr.Koeklue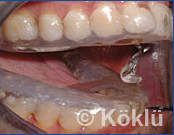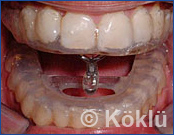 Bio protrusive Snap System (on the model photographed from inside)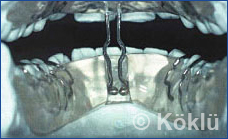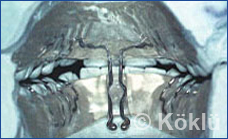 Advantages of the biofunctional Snoring apparatus:
Absolute freedom of movement for the physiological oral movements while sleeping
Individual, millimeter-precise setting of the lower jaw position
No aesthetic disruptors
Easy and comfortable
No side effects
Individually produced and adapted
No assembled devices